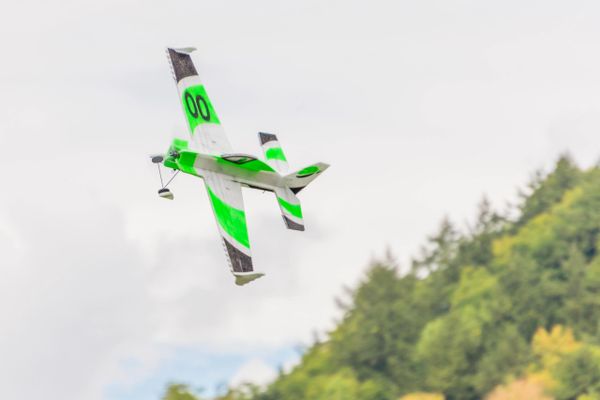 Rebuttal 32
Our smaller Rebuttal 24 was the jumping-off point for this, the Rebuttal 32!  Once we had tuned the performance on a smaller wingspan aircraft the performance just leaped ahead when this one was scaled up!  The Rebuttal 32 is the perfect indoor or outdoor aircraft for all seasons and just about all size flying sites!

The construction is similar to our other FYF models, but we've incorporated our brand new Triple Spar System™ that creates the stiffest wing possible without having to use carbon trusses that are fiddly to assemble and are easy to damage.  Easier building and a more robust aircraft are the result of superior engineering!
To improve upon the knife-edge flight performance, winglets are present and follow the style of the functional vortex generators on the wing.  Functional landing gear has always been a hallmark of Sawn Craft FYF models and with the Rebuttal we've added wheel pants to the equation just to kick the style points up another notch!
Built from a mix of 3mm and 9mm EPP foam for extreme durability as well as premium carbon rods and strips for stiffness, the Rebuttal 32 weighs in at a scant 240g AUW with paint and landing gear!  The light weight comes, in part, from a modest 3S brushless power system that provides more than 1:1 thrust to weight ratio for high-energy 3-D flight, but isn't intimidating to even the newest of pilots!

---
---
Product Specifications
Lightweight and durable EPP and carbon construction
3S Brushless Power System
Available in kit form only for shipped orders, but Bind-and-Fly models are available for local pickup and at selected events!
Custom painted kits are available, just select the options that you'd like in the drop down menu.
This kit includes all CNC-cut foam, laser-cut plywood parts, carbon spars, all required hardware for completion, and a full-color assembly and instruction manual.  View the instruction manual here: Rebuttal 32 Manual



All kits are cut to order so please allow one week for us to prepare your order.  Thank you!
Reviews