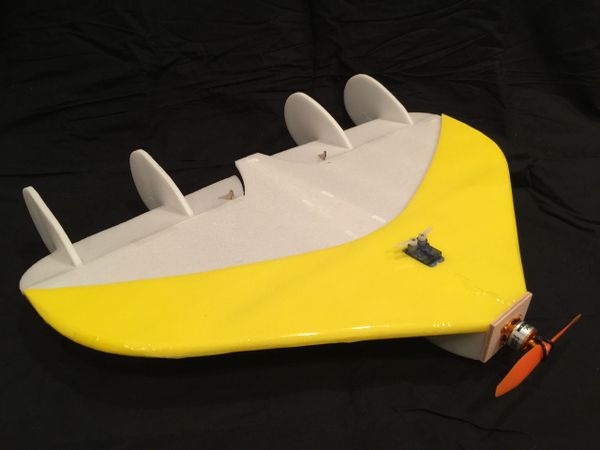 Mini 4-Fitt
Our extremely popular Mini Mana-Tee needed a combat nemesis so we developed this, the Mini 4-Fitt!   Solid flying wing flight characteristics combine with the unique and defining feature of this model; the four vertical stabilizers.  Mounted on the elevons, the vertical stabs move with the elevon creating a very aerobatic yet stable flight envelope.  A solid and durable performer, this will be your go-to plane when you need to fly in tight quarters.

Install the available completion kit and be prepared for unlimited vertical and snappy handling that won't break the bank!
Product Specifications
Lightweight and durable XPS and carbon construction
2S Brushless Power System
89g/3.12oz AUW
Available in kit version only
The kit version of this plane includes all CNC-cut foam, carbon, and plywood parts.  Also included are all required hardware for completion, and a full-color assembly and instruction manual.  Delivered unpainted.


Recommended Power System
10A brushless ESC

Turnigy 1822 2100kv brushless motor or 50W power equivalent.  Includes prop adapter and propeller.
2x 3.6g servos or equivalent
Spektrum-compatible 6-ch receiver or equivalent (JR plugs)
All kits are cut to order so please allow one week for us to prepare your order.  Thank you!
Reviews