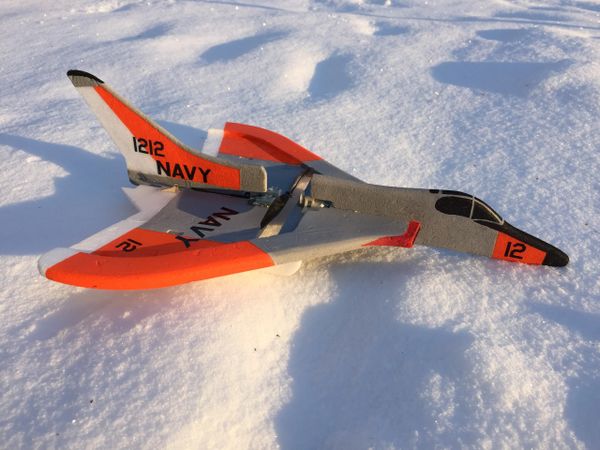 Micro F-4D Skyray
The F-4D Skyray was the first supersonic carrier-based fighter in the US Navy that actually held the outright world speed record for a time!  Though the full-scale aircraft never saw any time in battle, you can push your limits and clear the skies with this fantastic indoor-sized representation of the Skyray.

The CNC-cut XPS is extremely lightweight and durable. For those looking for a more mellow indoor flyer, the Micro Skyray can be setup with rudder and elevator while those looking for more aerobatic performance will prefer to use the elevon controls; both options are included in the kit! The elevon version is capable of basic aerobatics (loops, rolls, etc) and the rudder/elevator option can loop and excels at slow, high-alpha flight!
Assembly is easy due to the tab and slot design and the airplane is powered by components that are so common that you might already have them sitting in your spare parts bin!
Product Specifications
Lightweight and durable XPS and carbon construction
Rudder/Elevator/Throttle or Throttle/Elevon Control
Designed for 1S Ultra-Micro brushed power systems
1.25oz. / 34g flying weight
Custom decal set available: Link




This plane kit includes all CNC and laser-cut parts, all required hardware for completion, and a full-color assembly and instruction manual.  Delivered unpainted.
---


Recommended Power System
1S Ultra-Micro Brushed
Parkzone Champ/Mustang Brick or equivalent without AS3X

Parkzone Champ/Mustang motor, gearbox, and prop or equivalent
1S 160mAh Lipo battery
Can be setup with either RET or Elevon control based on performance desired.
All kits are cut to order so please allow one week for us to prepare your order.  Thank you!
Reviews