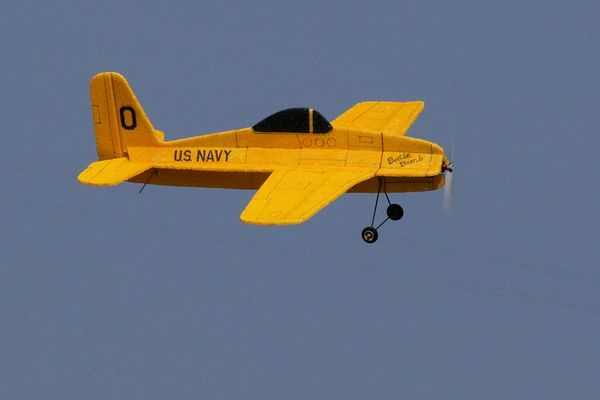 Bearcat 24 Kit
We have been looking for a model that combines the looks of a WWII warbird, the slow flight characteristics of an indoor plane, and the aerobatic capabilities of a 3D model for some time now.  We have found what we are looking for and can now offer those exact performance criteria in our Bearcat 24!  Loops, rolls, harrier and hovers all can easily be performed with this, the first of our Front Yard Fighters series!
The Bearcat 24 has been a project that was worked on for the past few seasons with the goal of having an indoor flyer that can stand up to the punishment encountered during a normal flying session at your local venue.  The profile of the model is that of the Grumman XF8F-1 Bearcat protoype, built in 1943.  More information about the full-scale aircraft can be found here.
Built from a mix of 3mm and 6mm EPP foam as well as premium carbon rods and strips for stiffness, the Bearcat 24 weighs in at a scant 104g AUW with paint and landing gear!  The light weight comes, in part, from a modest 2S brushless power system that provides more than 1:1 thrust to weight ratio, but isn't intimidating to even the newest of pilots!
Product Specifications
Lightweight and durable EPP and carbon construction
2S Brushless Power System

50W, ~14g Brushless Outrunner
180mAh - 300mAh LiPo
Purchase our Front Yard Fighters Completion Kit that includes all of the required electronics to get your model in the air!
Available in kit form for shipped orders or BNF completion for local pickup!
Painted kits are available in two different schemes.
This kit includes all CNC-cut foam and laser-cut plywood parts, all required hardware for completion, and a full-color assembly and instruction manual.

Note: Photos shown on this page represent prototype kits.  The production kit may vary slightly from the images shown, but are effectively the same aircraft.

All kits are cut to order so please allow one week for us to prepare your order.  Thank you!

Reviews